CAVIN-MORRIS GALLERY PRESENTS
CONTAINED EXCITEMENT: PLEASURES OF THE VOID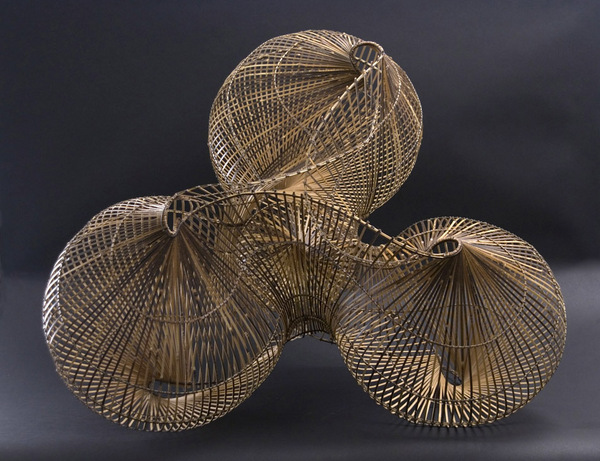 December 11, 2010 –January 22, 2011
Opening Reception: Saturday, December 11th from 5-7PM
Cavin-Morris Gallery is pleased to present a cross-cultural, multi-genre exhibition of magical and/or visionary objects called Contained Excitement: Pleasures of the Void. The show concentrates on the way the artist controls the sensual expectations of space in an object, which may or may not take leave of its utilitarian purpose. It is more than an attractive shape; it transgresses against expectations. The void is never really empty; it can contain mysterious objects or it can be the Mystery itself. In this observation is a secret of the soul of sensuality itself; the strategic withholding or timing of information in order to charge something with energy. Revelation is the artist's slave.

This exhibition also ushers in a deepening fascination as a gallery with the nexus points of Art and Design when craft is the tool of process that submits to more conceptual ideas. We will mix Art Brut, ancient and contemporary ceramics, New Basketry, and other media to introduce a new group of artists to the gallery but the central focus will be the Power object.

Included will be Chinese ceramic reliquaries for keeping wrapped sutras, the transformation of Native American Sweetgrass into deconstructions of molecular perfection in Debora Muhl's work; the nervous and dark recycling in the forms made by Jerry Bleem and John Garret; the beckoning toward initiatory revelation in Susan kavicky and Lissa Hunter; the brooding presence in the lithops-like ceramic sculptures of Kenji Gomi; the Zen poems inscribed in the early ceramics of the Buddhist nun Rengetsu; hidden books of healing and magic from the tribal peoples in Southern China; the incredible repression and resultant freedom in the ceramics boxes of Shuji Ikeda where the clay is woven like bamboo; the opening of soul to the elements of wind and light in the sweeping bamboo constructions of Charissa Brock met by the dark compression of clay into Place and Mortality in the ceramics of Tim Rowan; the erotic beckoning of release through restraint and role-play in the bondage bed made by Sullivan Walsh; the New Baskets of JoAnne Russo; and the ancient feminism of the ceramics of Avital Sheffer. A special inclusion will be an installation of Choson-period tea bowls from Korea and two intricate and rare woven rattan shields from early Kongo.

Artists also included are: Emogayu, Lizzie Farey, Polly Jacobs Giacchina, Deirdre Hawthorne, Mei-Ling Hom, Kentaro Kawabata, Gerri Johnson-McMillin, Shozo Michikawa, Drew Nichols, Akira Satake, Hyungsub Shin, Polly Adams Sutton, Akiko Tanaka, Tyrome Tripoli, Shannon Weber, and others.
For further information please contact: Shari Cavin, Randall Morris, or Mariko Tanaka at Tel: 212-226-4768, or
email: mtanaka@cavinmorris.com.